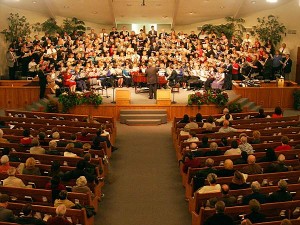 Dr. Bonner's choral workshops focus on the development of skills and attitudes conducive to effective worship.  They typically include a Friday evening session, all day Saturday, with a worship concert on Saturday night. Singers report enhanced sight-reading, improved musical confidence, life-changing individual growth, and a better understanding of the choral unit in the church as well as the role of the conductor.
---
| | |
| --- | --- |
| | "Dr. Bonner's choral workshops have been an annual event for our choir every year since 2002, when we attended our first one.  Now, as hosts, we look forward to opening our facility to singers from all over the Midwest who want to be a part of the weekend.  Participants know that they will be challenged, encouraged and strengthened throughout our time with Doc.  We may enter the first rehearsal harried from our week, but before the first song is over, something begins to happen:  as we sing under Doc's direction, everything else fades, and we begin to make music.  And more. Doc's call to excellence spills over beyond music and into our daily walk.  By the final note of the concert on Saturday night, each of us has been refreshed and challenged.  We leave better than we came in.  In the 12 years that I have known Dr. Bonner, our church has experienced significant growth—much of which can be attributed to Doc's influence on our worship.  The experience will open up doors you never even knew existed.  Thank you, Dr. Bonner!"  Liz Robinson, Choral Director, Church of the Nazarene, Kokomo, IN |
"We have been hosting week end choral workshops with Dr. Gary Bonner for many years.  These experiences have become highly anticipated and meaningful in the choir year for some twenty churches and choral groups in the greater Seattle area.We have found tremendous benefits for both the directors and the singers. The directors have a great opportunity to network and share ideas, while the singers have opportunity to meet other singers and share great music in both workshop and concert format.The singers leave the event with a greater confidence in their sight-reading ability and have a much improved sense of how they can make a difference in the worship life of their local churches.Dr. Bonner's insight into music choice, music interpretation, and facilitating singers to achieve at a high level is one of the highlights that you simply shouldn't miss if you are looking to infuse joy, energy, and passion into your music program.If you or your people have not had the opportunity to share in a week end Choral Workshop with Dr. Gary Bonner, put it on your calendar and start making plans today."  J. Bayard DuBois, Director, Breath of Aire, Seattle Washington
---
| | |
| --- | --- |
| | Dr. Bonner's approach to choral workshops is unparalleled and unsurpassed by any other. His inspiring methods are not only succinct and understandable, but immediately transferable and timeless.  Dr. Bonner's unscientific but artistic style helps equip singers and musicians of all levels with the tools they need to move forward in their quest for a higher quality of musicianship in the Church – whether it's singing, playing an instrument or conducting. His sense of humor, commitment to inspire excellence and to enrich lives in the music making process causes you to learn from the edge of your seat.  Singers report taking away a new realization of how to spin the voice to produce a better tone while simultaneously generating more power with less effort. Many also confirm achieving better sight reading ability and an increased confidence to attack the music with increased breath control. Dr. Bonner's Choral Workshops are like a luxury – once experienced, they almost become a necessity.  – Steven Kirkpatrick, Conductor, Central Texas Master Singers, Belton, Texas. |
---
For additional information on Choral Workshops,  contact 
THE BONNER INSTITUTE FOR THE ADVANCEMENT OF CHORAL MUSIC
817 Kilnaleck Lane
Glendora, CA, 91741
626-852-9105
[email protected].
2020
CHORAL WORKSHOPS 
March 6 & 7, 2020
Rockford Evangelical Free Church

2223 N. Mulford Rd.

Rockford IL 61107-2599

Renee Cooper

815-877-7046

March 13 & 14, 2020
CANCELLED/POSTPONED

due to Corona Virus Pandemic

Southern California

Orange Covenant Presbyterian Church

1855 Orange-Olive Road

Orange, CA 92865

Jennifer Gaston

626-512-1649
 2018 The Bonner Institute for the Advancement of Choral Music 626-852-9105