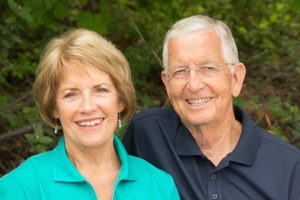 Dr. Gary Bonner
Dr. Gary Bonner is an internationally recognized conductor and trainer of conductors. He has what is described as an "intangible magic" when it comes to creating choral music, a sound and experience that is related to the connection between the conductor, performers, and audience, creating an elusive, yet identifiable, quality which makes a performance come alive.
In May 2012, Dr. Bonner retired as Founding Dean of the School of Music at California Baptist University in Riverside, California after leading the new School of Music through unprecedented growth in students, faculty, programs, and outreach and directing the 140-member University Choir and Orchestra.   During his tenure at CBU, the UCO completed 16 CDs and one DVD. In announcing Dr. Bonner's retirement, President Ron Ellis said, "He helped the CBU music program gain a national reputation for excellence through hundreds of brilliant performances annually".
During Dr. Bonner's 23 years at Azusa Pacific University, he served as Dean of the School of Music and director of the University Choir and Orchestra.  Under his direction, the APU Choir performed with the Los Angeles Philharmonic in the Disney Symphonic Spectacular at the Hollywood Bowl and performed and recorded with the Cincinnati Pops Orchestra. Their 1986 and 1988 Christmas programs were televised by KNBC and nominated for Emmy awards. Dr. Bonner completed more than 40 recordings with the University Choir during his 15 years as their director. These recordings include Heart of America, an Americana collection; Love Songs, romantic old favorites; the Adoration series of sacred classics; and a number of spirituals, Christmas, and contemporary gospel music recordings, including the Dove Award-winning musical Exaltation released by the Benson Company.In 1989 Dr. Bonner was the first American to conduct at the International Church Music Festival in Oberammergau, Germany, sharing the podium with Sir David Willcocks of Great Britain. From 1991 through 1994 he conducted the 2,000 voices and orchestra of the Disneyland Candlelight Procession, sharing the stage with Robert Urich, George Kennedy, Peter Graves, and Michael York. He also worked for the Disney Corporation in selecting, preparing, and producing the voices for the summer 1993 Disney Symphonic Fantasy which toured the United States and performed with major orchestras including two weeks with the American Symphony at the Metropolitan Opera House in New York City.
In October 1995, Dr. Bonner formed The Gary Bonner Singers which have distinguished themselves as a choral ensemble of musical excellence and versatility; contagious, sparkling performance; and warm, vibrant choral tone.  They have completed 18 recordings, including three of which were produced and distributed by Word Music, three commissioned albums, and five Christmas albums, the most recent released in March 2006.In December 2006 and 2008, they were honored to perform at the White House Holiday Open House.  They were also the featured choir in the 1996 Salvation Army's "Army of Stars" Christmas Eve radio program with narrator Jack Lemmon and guest artist Steven Curtis Chapman. They have performed at the Crystal Cathedral, Church on the Way, Knotts Berry Farm's New Year's Eve "Praise 2000", in numerous Community Concert Series, including Inland Empire, Fullerton, Bakersfield, and Glendale as well as with the Capistrano Valley Symphony.
Ranging in age from 18 to 65, the singers represent a wide diversity of backgrounds and vocations.  Audiences respond enthusiastically to the 60-voice ensemble's full range of choral music and unique style that emphasizes communication and relationship with the audience.
Dr. Bonner is in great demand as a teacher of both choir directors and singers. He has trained over 800 conductors in his intensive week-longconducting seminars and touched thousands in his weekend choir workshops whichhave been offered across the United States and Canada. In addition, Dr. Bonnerhas been regularly invited to offer workshops at major music conferences such as MusiCalifornia, Music Northwest, Christian Artists at Estes Park Colorado, Gospel Music Conference in Nashville, Music Minnesota, Hosanna Music Conference, Music Iowa, Spartanburg, Ridgecrest, Glorietta, Metro Music, and the National Church Music Conference.
His philosophy that music is for the masses, not just a select few, permeates his emphasis on communication and relationship through music.
Dr. Bonner and his wife Pat have been active in Christian ministry through music and teaching for the 64 years of their marriage.
******************************************************
Dr. Patricia Bonner
Dr. Patricia Bonner is  professor emeritus with Azusa Pacific University after serving for 29 years as faculty and administration. She was founding Dean of the School of Education and Behavioral Studies from 1986 to 1994 and subsequently served as professor in the Department of Doctoral Studies in Education.  She has presented her research at the American Association of Educational Research and the California Association of Educational Research numerous times and published her research in such academic journals as Teacher Education Quarterly, Education and Urban Society, Journal of Hispanic Higher Education, and School Psychology International Journal.  She has been married to Dr. Gary Bonner for 64 years and they have three children and six grandchildren. In addition to her professional career, Pat has been consistently active in Christian work across the years, supporting her husband in church choirs and in his national and international choir workshops and other ministries, singing in The Gary Bonner Singers, and assisting in The Bonner Institute for the Advancement of Choral Music. She has also taught adult Sunday School classes and Bible studies as well as spoken at a variety of events through the years.
Pat has regularly read the stories of Bob Benson at choir workshops. Over the years, numerous individuals requested that she record these stories for others to enjoy and share, finding particular meaning through Pat's expressive interpretation and warm, inviting voice as well the delightful humor, gentle insight, and deep spiritual truths found in the Benson stories. The Bonners are pleased to have completed such a recording which includes eight of the Bonner's favorite Bob Benson stories. This CD can be purchased through this website for $10. Click here for more information about this CD and to order, or order by phone by calling 626-852-9105.
© 2000-2023 The Bonner
Institute for the Advancement of Choral Music. All rights reserved.
[email protected]
626-852-9105