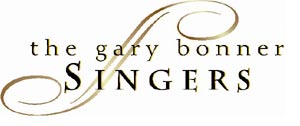 The Gary Bonner Singers, launched in October 1995, have distinguished themselves as a choral ensemble of musical excellence and versatility; contagious, sparkling performance; and warm, vibrant choral tone.  They have completed 22 recordings, including three of which were produced and distributed by Word Music, four commissioned albums, five Christmas albums, a spirituals collection in Spain, and a sacred classics collection recorded in Prague with the City of Prague Philharmonic orchestra. A recent recording, Legacy Christmas in Concert, is a live recording of the December 8, 2013 Christmas concert. They also completed a video recording of that same concert. Both of these are available for sale at www.bonnermusic.com and at Gary Bonner Singer concerts or by calling 626-852-9105.
The Singers have been honored to perform at the White House Holiday Open House in December 2006, December 2008, and December 2011, chosen from a large number of applicants from across the United States.  They were also the featured choir in the 1996 Salvation Army "Army of Stars" Christmas Eve radio program with narrator Jack Lemmon and guest artist Steven Curtis Chapman. They have performed at the Crystal Cathedral, Church on the Way, Knotts Berry Farm's "New Year's Eve Praise 2000″, in numerous Community Concert Series, including Inland Empire, Long Beach, Fullerton, Bakersfield, and Glendale, as well as with the Capistrano Valley Symphony.Ranging in age from 18 to 60, the singers represent a wide diversity of backgrounds and occupations. Audiences respond enthusiastically to the 60-voice ensemble's full range of choral music and unique style which emphasizes communication and relationship with the audience.
Dr. Gary Bonner, has what is described as an "intangible magic" when it comes to creating choral music, a sound and experience that is related to the connection between the conductor, performers, and audience, creating an elusive, yet identifiable, quality which makes a performance come alive. Dr. Bonner is an internationally recognized conductor and trainer of conductors. In May 2012, he retired as Founding Dean of the School of Music at California Baptist University in Riverside, California after leading the new School of Music through unprecedented growth in students, faculty, programs, and outreach and directing the 140-member University Choir and Orchestra.   During his ten-year tenure at CBU, the UCO completed 16 CDs and two DVDs. In announcing Dr. Bonner's retirement, President Ron Ellis said, "He helped the CBU music program gain a national reputation for excellence through hundreds of brilliant performances annually".
During his 23 years at Azusa Pacific University, he served as founding Dean of the School of Music and director of the University Choir and Orchestra.  Under his direction the APU choir performed with the Los Angeles Philharmonic in the Disney Symphonic Spectacular at the Hollywood Bowl and performed and recorded with the Cincinnati Pops Orchestra.  Two of their Christmas programs were televised by K-NBC and nominated for Emmy awards.  Dr. Bonner completed more than 40 recordings with the University Choir during his 15 years as their director.  One of these recordings was the Dove-Award-winning musical "Exaltation". In 1989 Dr. Bonner was the first American to conduct at the International Church Music Festival in Oberammergau, Germany, sharing the podium with Sir David Willcocks of Great Britain.  From 1991 through 1994 he conducted the 2,000 voices and orchestra of the Disneyland Christmas Candlelight Procession.
Dr. Bonner is founder of The Bonner Institute for the Advancement of Choral Music. He has trained over 800 conductors in his conducting workshops and touched the lives of thousands of church and school musicians through his choral workshops.  Out of his love for the grand tradition of choral music, he formed the Gary Bonner Singers. In April 2006 he received MusiCalifornia's Ray Devries Church Music Ministry Award which recognized his lifetime contribution to choral music both throughout the United States and internationally. The Board of Trustees of California Baptist University awarded him the Outstanding Professor Award in May 2010. He and his wife, Dr. Patricia Bonner, Former Dean of the School of Education and Behavioral Studies and Professor Emeritus at Azusa Pacific University, have been married for 63 years and have three children and six grandchildren.
After 27 years as conductor of the Gary Bonner Singers, in December 2022, Dr. Gary Bonner decided to turn the conductor podium over to one of their three children, Dr. Judd Bonner, who had served as co-conductor of the Gary Bonner Singers, in 2021 and 2022.   Dr. Judd Bonner was formerly the Dean of the School of Music at California Baptist University from 2012 to 2016 and before that he served as Associate Dean and Professor in the CBU School of Music.  He has experience in high school teaching and choral conducting as well as leading and conducting church choral music.
 

Sunday,February 5, 2023,   5 pm                                 First Presbyterian Church of Fullerton              838 N. Euclid       Fullerton, CA 92832 

Sunday, February 19,         6 pm                                      The River Christian Reform Church                459 East Highland Redlands, CA 92373 

Sunday, March 12, 2023, 4 pm                                     The Garden Fellowship 38633 Jefferson Street Indio, CA 92203 

Sunday, March 19, 2023,  4 pm.                              Mount of Olives Church 24772 Chrisanta Dr. Mission Viejo, CA 92691 

Sunday, April 16, 2023         5 pm.                               Village Church                3216 W. Victory Blvd. Burbank, CA 91505 

Sunday, April 23, 2023,    5 pm                         Glendora Community Church                                645 North Grand Avenue Glendora, CA 91741 

Saturday, May 20, 2023, 4 pm                                 Christ Lutheran Church 820 W. Imperial Hwy. Brea, CA 92821 

 
 
 
 
 
 
 
 
 
 
 
 
 
 
 
 
 
 
 
 
 
 
 
 
 
 
 
 
 
 
 
 
 
 
 
 
 
 
 
 
 
 
 
 
 
 
 
 
 
 
 
 
 
2017 The Bonner Institute for the Advancement of Choral Music
 All rights reserved.
gbonner@bonnermusic.com
    626-852-9105